Ancient Wardstone
Overview
Level:
1
Type:
Normal Solo
Faction:
Zone:
[[]]
Area:
[[]]
Plane:

Plane of

Coordinates:
Unknown
Faction Affiliation
Defiant:
Friendly
Guardian:
Friendly
Noteriety rewards

Ancient wardstones are wardstones, that look quite different from the ones found at Quest Hubs.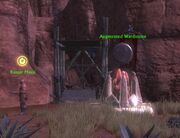 Until claimed, they are a non-descript looking stone device with three parts protruding from the ground, easily missed at first glance.
Ancient Wardstones are claimed using the Ascended Power Ancient Wardstone Activation. Once claimed, an NPC will often appear and setup a camp, then offer a quest or quest chain. These quests usually involve objectives near the wardstone. As steps in the chain are completed, the camp may be upgraded with additional structures. The claimed wardstone may instead unlock a public quest in the immediate vicinity, rather than spawning an NPC and camp.
Most of the quests are repeatable daily; some, however, are repeatable every 10 minutes. The initial completion typically rewards a zone-level sourceshard, while subsequent completions typically reward with planarite, though there may be exceptions to this.
Claimed Ancient Wardstones are not invulnerable, and they can be destroyed by the opposing faction or by invading forces. However, it is possible to use the Ascended Power Augment Wardstone to upgrade the wardstone, making it more resilient to attack. The wardstones have 4 levels, with the level 1 "Augmented Wardstone" being the initial level immediately after claiming. Thus, you can upgrade wardstones with the Augment Wardstone ability 3 times.
Wardstone health appears to be based on the wardstone's upgrade level and base level, using this formula:
(upgrade_level + 1) * ((base_level * 80) - 466)
The upgrade level is simply 1 thru 4 (see table below), and the base level appears to be determined by the zone the wardstone is in and a bit of random chance. In Scarlet Gorge, for instance, wardstones seem to be level 28 or 29.
| Level | Turrets | | |
| --- | --- | --- | --- |
| 1 | 0 | Augmented Wardstone | Ancient Wardstone |
| 2 | 1 | Enhanced Wardstone | Blessed Wardstone |
| 3 | 2 | Augmented Wardstone | Sanctified Wardstone |
| 4 | 2 | Ultimate Wardstone + Projection of Asha | Consecrated Wardstone |
In addition to providing immediate benefits via the repeatable quests, there are also zone events that can be triggered when one faction claims all of the wardstones in a specific zone.
Scarlet Gorge
[
]
Olaf Sternbrew at

RiverFell

[3853,2837]
[4029,3649] Located at the very top of the Broken Toe steppes. Spawns a traveling merchant that starts at the bottom of the steppes. The merchant offers an initial collection quest Spared Parts, followed by an escort quest that brings him safely up the steppes to the actual wardstone location.
[4756,3687] Located in a large nest of spiders. Provides a public quest to kill 20 spiders in the area.
[4623,3850] The wardstone is located on the ridge, you need to go north of the wardstone to find a path up onto the stone outcropping. When activated an area quest starts with the goal of destroying recharge stations.
[4366,4368] Wardstone is on a stone pillar just south of Frayworn Rock, accessible by bridge from the road to Scarwood Lift. When activated a miner will come and request you look for signs of planarite.
[4786,4242] This wardstone is easy to find in the southeast corner of Ironroot Draw. The quest giver gives out two daily quests.
Deep in Scarlet Gorge, a horrible beast of the Planes has slept for millennia. Behold - Urthura, 'The Dweller Below.' If a single faction controls all Ancient Wardstones in Scarlet Gorge, the sweet smell of power awakens Urthura from her slumber, causing her to rampage across the Gorge, intent on destroying everything in her path. Where she spawns depends on which faction activated the wardstones that summoned her. Once spawned, she can be claimed by either faction, so get that raid together quick! Fortunately for the residents of Scarlet Gorge, Urthura tires easily, and can only awaken about once each day.
Scarwood Reach
[
]
[3437,3944] Close to the road, often target of the enemy faction. It gives the quest Precious Cargo, to escort the construct to

Granite Watch

.
[3456,3710] Wardstone is in the woods, close to the shrine. The quest On to the Slaughter requires to kill 30 Stone Grove bugs flying around.
[3354,4259] Gives the quest "Posting and Roasting", kill 10 Tinkerers and then protect Lotham. Soon after killing the 10 he gets attacked so be ready.
[3848,4158] Gives the quest Boarpedo, use the quest item on 10 boars around the area
[4008,4578] Gives the quest "Firebrand" set garbage piles on fire and burn 10 skeletons.
[2986,3953] Gives the quest "Keep Away" - collect rift blooms (spawn on the the big roots) for a 2 min buff and return to wardstone, repeat x 8. Walk onto the glowing light pillar at the base of the tree to teleport back to the top. Spawns a lv33 neutral beast dragon elite after a while
[4166,4373] Gives the quest Bug Hunt, gives a quest to kill spiders nearby