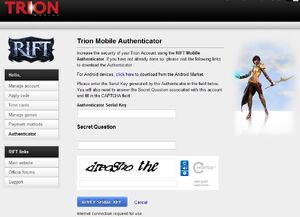 Trion have released a mobile authenticator and at this stage is currently available for iPhones, and any Android powered devices with internet connectivity.
The setup is simple once you have it installed, you login to your account on the RiftGame website.
From there click "Authenticator" in the menu on the left and follow the on-screen instructions.
A thing to note the only time you need the "Serial Key" from your authenticator is on first setup (that is letters / numbers and dashes) after that, you will tap back out of the setup screen and click to "View Security Code" which cycles every 30 seconds with a visible countdown.
Entering the code incorrectly and/or using aforementioned Serial Key when trying to login to the game, will most likely lock your account.
Bonus Title
[
]
Upon activating your authenticator, you will receive the in-game Epic title "the Ironclad" by opening the item in your mailbox.
External Links
[
]