Jurassic World: Dominion Dominates Fandom Wikis - The Loop
Play Sound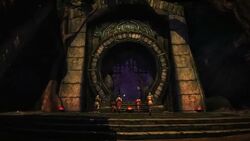 Dungeons are special locations in Rift: Planes of Telara that are accessible to anyone from individuals[1] to groups or raid parties. The dungeons are instanced, that is, every group joining the same dungeon will be separated from other groups and the open world. The surroundings and encounters in each dungeon are different, some even feature rifts or have the entire dungeon change around you as you progress.
Dungeon Difficulty
[
]
There are several types of dungeons/instances.
Chronicles of Telara are small solo/group instances that get everyone involved in key characters and villains in the game's story.[2]. The first chronicles will be released with 1.5.
Normal Dungeons for 5-man groups can be found in each zone. The level of the dungeon is appropriate to the level of the zone and is usually involved in quests. Normal Dungeons can be reset and repeated at any time.
Expert Dungeons are more difficult versions of the normal dungeons for 5-man groups. They are similar to their normal version, but feature more challenging content and additional bosses. Only level 50 players can enter an expert dungeon. Expert dungeons are on a daily reset timer, so you can only run each of them once a day.
Raids are special dungeons designed for 10 and 20-man raid groups. They offer very challenging fights that will take a large group of well-geared characters to progress. Raid dungeons have a weekly reset timer. A group can leave the dungeon and come back to continue several times until the dungeon is reset.
Expert Dungeons and Raids are part of the endgame content of Rift, together with Expert Rifts and Raid Rifts, which exist outside instanced areas.
Expert Gear
[
]
Expert gear, which can be found in expert dungeons and rifts or purchased from Plaques of Achievement, introduces new types of stats.
toughness reduces the amount of critical damage taken (required for any tank)
The dungeons, rifts and raids are broken up into different tiers according to the amount of those stats required. Participating in content above your tier, will result in degraded performance; for example attacks or spells being resisted by targets and tanks getting critically hit by mob attacks.
| Rating | Value |
| --- | --- |
| Dungeon - Tier 1 | 50 |
| Dungeon - Tier 2 | 100 |
| Expert Rift | 100 |
| Raid Rift | 150 |
| Raid - Tier 1 | 200 |
| Raid - Tier 2 | 300 |
Normal Dungeons
[
]
Expert Dungeons
[
]
Master Dungeons
[
]
Raids
[
]
Achievements
[
]
References
[
]