Help! Key elements of this article are incomplete. You can help Telarapedia by
expanding it
.
This page is missing an
Item Tooltip
, so feel free to edit this page and improve it! (See also:
Telarapedia Help
)
Hellhound Pup
Overview
Level:
1
Type:
Critter
Faction:
Zone:
[[]]
Area:
[[]]
Plane:

Plane of

Coordinates:
Unknown
Faction Affiliation
Defiant:
Friendly
Guardian:
Friendly
Noteriety rewards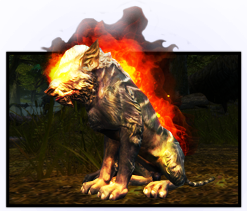 The Hellhound Pup is one of the three companions given to people who pre-order RIFT.
Summoned from a [Scorched Collar].