Life Rift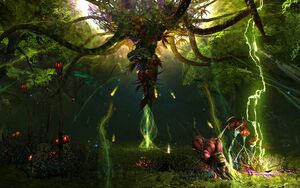 Exploring Telara, you may find a lush oasis in the heart of a wasteland, where alien plants grow thick as corded sinew and heavy with fruit, and new species of beast prowl, displaying fur and plumage in unreal colors.
Turn away from such places, for if you wander in alone you may become intoxicated with scent and sight and lose all sense. By the time you realize the foliage has blocked out the sun, you will be bitten by legions of ravenous insects, and finally come to the center of the growth.
There hangs the Life Rift, vines and roots spilling out, tearing the rift wider like fingers pulling at frayed cloth. One of the vines will notice you and dart for your guts like a viper as its end sharpens to a venomous spear…
A life rift is one of the six different types of Rifts that can appear in Telara.[1]
Monsters
[
]
Many of Telara's most savage beasts are invaders from this plane. Dire wolves hunt the local game to extinction, and razorbeast boars trample like jagged boulders over any natural predator. The Plane of Life can warp wildlife into abominations like the shamblers: swollen toadlike heads pulled along by spindly arms, with no body but a mass of soggy leaves.
References
[
]