Water Rift
Water Rift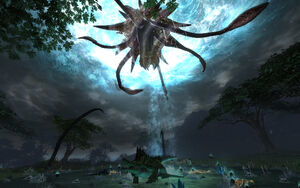 The surface of all water is a membrane between sanity and lunacy, between the open air and the dark depths. By the shores and in the swamps, where real meets surreal, the Water Rifts form, letting madness loose upon Telara. Stay away from the water! Better to fish in the sand than risk ever meeting the gibbering, slimesome horrors that slither from the nightmare plane.
But then, a Water Rift can take hold even in the driest desert. Salt water rushes from nowhere and spreads into a reeking lake, from which tentacles rise and quiver in frantic rhythm. Toothed tendrils writhe from a rent in the sky, living creatures drown on land, and monsters spill from the rift like rotten fish from a net.
A Water Rift is one of the six different types of Rifts that can appear in Telara.[1]
Watertouched invaders merge the worst bestial traits with the worst human urges. Fish-headed, with squirming tentacles for legs, the cephalons build fluted cities deep beneath the waves and hold depraved revels, hoping Akylios will wake and lead the dance. Slouching sobeks with scaly hides and crocodile jaws wallow in everything cruel and lazy. They have long served as enforcers for Telaran sorcerers arrogant enough to summon them.